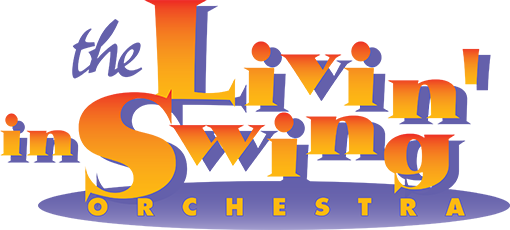 Book Now
Livin' in Swing
(6 piece to 12 piece group)
Calgary Swing Band, Corporate Entertainment and Wedding Band "the Livin' In Swing Orchestra"
Come swing with Chance Devlin and the Livin' In Swing Orchestra. Clink martinis and kick up your heels to all your favourite music from classic faves to current craze. Chance directs and entertains from his elegant grand piano out front, with featured vocalists. Cool and classy, always with the potential for a wild dance party to break out. This band also delivers an singularly outrageous variety of music: Swing & Jazz, R&B/Funk, Best Pop Songs from the 50's to 2017, including Salsa and "Despacito". High quality fun and interactive entertainment with something for all ages.
Swing music with a CURRENT flavour.  In recent years several movies have made swing music famous again.  We play songs from those movies!  The Great Gatsby, Burlesque, and swing renditions in the films by Adele, Beyonce and the Black Eyed Peas.  Also music from the Chicago movie soundtrack. 
Smaller version of band is also available.  Based in Calgary, we travel anywhere in Western Canada from Whistler to Winnipeg.
LEARN MORE
Award Winning Performers: 2008 ISES Best Team Effort - Budget Over $200,000 USD
In 2008 the Livin' In Swing Orchestra won an award for performing at the top wedding in north america, as judged by ISES (International Special Events Society). We were selected to headline this major gala at the Banff Springs Hotel when Tony Bennett was unavailable. Now it's forever our claim to fame. 
If you can't get Tony, ask for us.
Current Twist: We cover a mixed bag of current music along the same theme by Adele, and from the movie soundtracks to Chicago, the Great Gatsby, and Burlesque. Speaking of burlesque, we can provide special dance presentations and dance instruction as an add-on.
Full Band Includes: Three vocalists, Piano, Bass, Drums, Guitar, Latin Percussion, Sax, Trumpet, Trombone, DJ to play music before show and on breaks.
Includes: 3 hour show, Sound production up to 200 people, Basic lights, Grand piano shell, Well-dressed and great sounding band.
Prices include a grand piano shell, all musical equipment, and full sound system with two big bass subs and lights supplied by Cosmic Sound.
Extras: Dance instruction, Dance demos, Burlesque performers
OUR PRICE
Price is by quotation. Click "book now" or the "contact" page and let us know which musical group you'd like, the date of your event, venue and what you're celebrating. We're easy to work with and we'd love to help transform your party into a Big Deal!
Based in Calgary Alberta, travel anywhere across Western Canada
VIDEO
Check out the video below!  Swing repertoire not featured in this video.  New video to be posted soon.
---
Your next event is about to become a Big Deal.
Congrats you're throwing a party! Let's make it something special.
Big Deal Entertainment delivers fun and feel-good live music for your special event in Calgary and across Western Canada. You bring the guests, and Big Deal Entertainment brings your party to life with high quality live music, audience participation and a wide range of songs and styles to choose from.
Your top choice in live music for the finest weddings and corporate events in Calgary.  Dueling Pianos, Solo Piano entertainment, Jazz trio, the best party band anywhere "The Distractions", and our Swing Band that started it all.  Other options available on request, every show is customized to what will make your event shine.  Musical Director Chance Devlin has led the band since 1998, rocking the house at too many parties to count.
Book live music with us in Calgary, Banff, Lake Louise, Red Deer, Emerald Lake, Saskatoon, Regina, Winnipeg, Whistler, Vancouver, Kelowna and Kamloops and all parts in between.  Specializing in special event music for fun weddings and corporate events.
Scroll down for more information, and get in touch to find out how we can help you make your event into a Big Deal!
TRANSFORMING ORDINARY EVENTS
INTO A BIG DEAL SINCE 1998